Electric Drum Brakes Conversion – This weeks Hotshot-USA Resource blog article, we are going to examine the recent service and upgrade that I received from The Trailer Guys at their Trenton, Texas location. I had previously written about the great LED Bullet light job the did to my trailer. I now have had a couple months to test, scrutinize and use the trailer brakes under all types of situations and frankly, I am amazed. Sometimes in life you just have to say to yourself "I wish I had done this long ago."
First thing I want to talk about it the stopping power. It is hands down, a difference of day and night. Often, I had to set my brakes on 9 or 10 with my electric brakes controller, and the end result was that they would only slow me down especially under load. With the new Hydraulic disc, I set them on 6.5 under a heavy load and around 5 empty. If you keep them set any higher, when you are driving in traffic and tapping the brakes, they will engage and jerk the trailer some.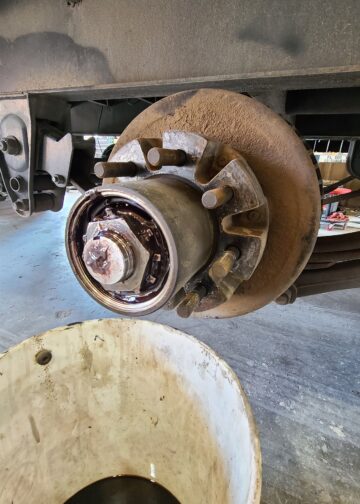 You have to find your sweet spot. I tested them empty, loaded, at different speeds, with and without the truck brakes and the results were that they would stop the truck at any speed and with a load. I could use JUST the trailer brakes and stop the truck and trailer if needed.
Safety and well being are two things that you can not put a price on.
Now let me clarify, I have had my electric brakes set when they were new, or drove new trailers, and the brakes would work fine. However, we are talking long run after repeated use and under load. There is no comparison, the Hydraulic were consistent and stopped firmly.
The benefits and implications are numerous. As a Hotshot Trucking owner operator, I am often driving in rain, traffic, ice or snow. I was able to stop firmly, securely, and the dependability was absolute. In years past, when I was driving through DFW, Austin, San Antonio, Houston, in traffic and rain, I had to be vigilant and cautious and give myself enough room and distance to be able to stop. Sure, one should always drive this way but now it takes out a lot of the worry and stress. I feel safer and I trust my equipment. It had been a true concern for me. Safety and well being are two things that you can not put a price on.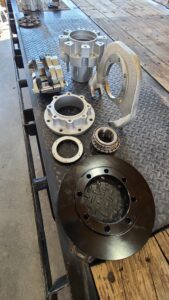 Costs and Savings
Let's talk costs and savings. Sure, they are a little expensive to have converted but I have spent $3,000 more than once on new brake assemblies, hubs, seals and bearings. A single set of an electric brake assembly is now close to $500. On my 12k axles, I need four. The money saved on only having to change the disc pads is game changing.
Then there is the Phantom Brake wiring problems that are a regular part of owning electric drum. Trailer brakes disconnected- check brake wiring- Brakes disconnected, sound familiar? And there is a hundred different reasons for this. The hassle, the stress, the danger of no brakes when you need them.
Last, I want to mention problems that are very dear and close to my heart… DOT inspections. The first thing they are going to ask is to test your trailer brakes – and over half of electric trailer brakes do not stop a trailer under load. This results in immediate violation and puts you out of service. Then you are subject to on site repair by some "Mobile Trailer Repair Tech" that may take forever to get there, not have the parts, parts are going to be excessively marked up. I have paid $2600 for mobile trailer repair before. My very good friend had a driver that got pulled over twice in 3 months and the violations and CSA score has crippled him. His insurance is $65,000 a year, no bs. So it pains me to think that can happen to anyone.
Electric Drum Brakes Conversion Maintenance
Finally lets talk maintenance. Besides adding brake fluid, eventually having to change the pads, and check the grease in the hubs, we're good. That is another thing… take a look at the before pic of my hub, bearings and assembly, it was all worn the hell out. Now, I have the satisfaction of new components and a couple more years of great driving. That is worth a lot.
The only drawback of electric drum brakes conversion but is easy to get used to… is the brakes have a split second delay before the fluid is pumped from the reservoir tank to the brakes. So, you have to allow for that but the great people at The Trailer Guys figured out that by placing the fluid tank right in front of the brakes in a tool box, therefore shortening the distance for the fluid to travel, solves this problem.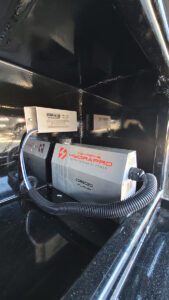 In conclusion, I can only say that this is very much the best decision I have ever made. Between this and the running marker lights, Dunnage rack and chain and binder rack, I love my trailer and I love The Trailer Guys. They were quick, got me scheduled in, and out. Service as professional and knew what they were doing. Only thing I need now is Air Ride, time to talk to them again lol.
We will be doing a YouTube video soon- Pimp my Trailer so be sure to stay tuned to Hotshot-USA Resource Network, all our Facebook groups and blog. Join our newsletter for updates and announcements. I also will be reviewing the other upgrades and accessories. Remember your trailer is your place of work, your office, your shop, your workbench, you get my meaning. It is the first thing that your customers see and the workhorse that makes you money. These upgrades make my life and job easier and safer. It saves time, time equals more loads and more home time.