Factoring, is it right for you? When it comes to money, most people are just like Veruca Salt in Willy Wonka and the Chocolate Factory, "I want it NOW!"
No one wants to wait 15, 30, or even up to 45 days to profit from the loads they haul. I get it, we all have bills to pay, myself included. Waiting for that money could mean the difference between making an equipment payment on time or getting a dreaded late fee tacked onto the payment amount. After years of running under someone else's authority, my co-driver and I decided to get our own DOT and MC. One of the things we've had to look very deeply into is factoring. I started out not even knowing what factoring was, but after days of research and reviews of different companies, I know more than I originally thought I needed to. I had a conversation with some other Road Warriors recently, and I noticed that while I was thinking I was the one that knew nothing, it turned out I knew more than a few of the drivers I was talking to.
Factoring is when you partner with a capital funding group, who will give you your money as early as the same day. It's like a cash advance without the sneaky terms and conditions that you see in payday loan establishments. The way it works is like this: when you take a load from Freight Broker Inc, you send the invoice over to your factoring company. Your factoring company will pay you the amount of the invoice, minus the percentage agreed upon in your contract with them. A lower percentage means they keep less. A higher percentage means just the opposite. If you're factoring at 3% and your invoice is for $2500, then the factoring company will keep 3%, or $75, and you'll get the other $2425. Someone charging you less than $100 so you can get that other $2425 in advance sounds really cool, doesn't it? It definitely beats waiting two weeks or more to see the money you've earned.
Different factoring companies have different contract length terms. Factoring isn't a one size fits all situation. Some drivers only need factoring to get their business moving in the right direction, while other drivers only use it during certain times. It is easier to do business with one factoring company versus doing the billing and collecting work with dozens of different brokerages on your own. It's important to find a factoring company that works for your business.

Most companies offer 1-year contracts, and all factoring contracts have auto-renewals. Some factoring companies offer 90-day contracts, but they also have a 60 day cancellation clause. In that scenario you would have to give notice in the first 30 days before any of your loads have been collected, which is very rare. The factoring company will not release you until all of the money they have given you has been paid back or purchased. So in reality you would have to stop factoring all together and be able to float your own payments for 30 to 60 days while that factoring company collects on all receivables owed. This means you will likely be in that contract for at least 6 months. Most carriers will need factoring for at least a year, which is why that term length is most popular. Also, factoring companies need to make a profit as well, and it usually takes at least 6 months before they can overcome the initial cost of acquiring and underwriting a new client.
If you're feeling particularly daring, you can select a company that offers invoice minimums. That means you HAVE to factor a certain number of loads with them in a month or you could face a penalty. To some, it might be an incentive to keep the wheels turning and the drivers earning. But if something happens where the truck is in the shop for a few weeks, then that incentive can become a burden really fast. Fortunately, most companies offer no minimums.
Some factoring companies claim to be non-recourse, meaning they will not collect from you if your customer does not pay the factoring company back. This boils down to small print as a tricky clause in the factoring contract. Non-recourse is only true in rare cases if the customer files for bankruptcy between the time you submit the invoice and when they are due to pay the factoring company. This happens very rarely. All factoring companies will recourse you if your customer simply does not pay or pays late, it is just a matter of when they will collect from you. Remember, factoring companies are not in the business of giving away free money. All factoring companies have language in the contract to make sure they can collect from you if your customers fail to pay in a timely fashion. On top of that, most companies will charge a carrier a higher rate to have a "non-recourse" contract.
Waiting for that money could mean the difference between making an equipment payment on time or getting a dreaded late fee tacked onto the payment amount.
Whether or not you choose to factor is up to you. Every business operates their own way, and their factoring needs will be different. It's always best to look at hours and days of operation (outside of normal business hours), speed and method of advances, additional perks a factoring company has that may benefit your company. From fuel, tire and maintenance discounts to business loans and truck/trailer leasing and sales. It's just a matter of finding what works best for your business. Factoring or not, be sure to be safe on the roads and enjoy the sights as you travel.
– Special guest Contributor Lindsey Cookston of Smokey Ridge Logistics llc
Thanks to Lindsey who did her research and did a great job. She had specific needs and goals. Many do not want to give up money or be bound to any contracts or constraints. Also, some may not have good credit or been in business very long. Most factoring companies base their rates on how much factoring volume you do, which means the more you haul, the better the rate.
Remember that this is a very risky business for these companies that are working on minimal margins. Let me explain one thing. With the current Federal prime lending rate of 8.0% today, most factoring companies are using and losing money on paying out for money that they have not collected or are guaranteed to collect. So they tend to be very careful and want to protect themselves from unnecessary risk. They like contracts to be able to provide future return for their investment. Simple business logic and policy. A contract helps hedge their bets on you.
So here is the part that I feel most of us do not know and what I learned the hard way. This also helped me cement my relationship with my factoring company. I applied for a fuel card with RTS about 5 years ago. I spoke to them about using their factoring service and filled out an application, but never confirmed or gave them banking information.
I was in a business relationship with a partner that booked our loads and paid me directly for my share. I had no need for a factoring company. It was a great relationship except that we only settled up once a week unlike a factoring company that will pay usually within 24 hours or in some cases like TAFS, in one hour.
Well fast forward to 2022, we decided to take out a home mortgage remodel loan from my local credit union. Imagine the surprise and outrage I have when I find out that RTS has filed a lien on my home, my personal credit and Business credit. I call for three days trying to reach someone who could explain to me what the hell is going on? I never even used them.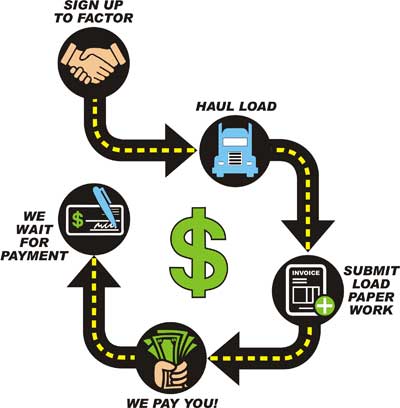 I call my friends at TAFS who I am just discussing using to help me figure this out. They do legal research and check into the problem and helped me to clear it up. An RTS rep calls me and tells me that he is going to remove the lien but that it is normal operating procedure for them. To put liens on home and personal credit to "protect themselves".
They never could explain why they did it when I never even used them. They had to file with the State of Texas Attorney Generals office. I would think I would of gotten a notice. If it had not been for TAFS help and explaining it from their search, I would still be in the dark. Now, TAFS and all Factoring companies have to put a lien on your business and file with the state, but not your personal or home. Once you discontinue your business relationship, they will remove it. So you can tell, it left a very bad taste in my mouth.
So, that is the main reason I chose TAFS. Your business is a business. You need a financial partnership with your factoring company. They help you make the right decisions and can steer you from making bad choices. We run a Hotshot Resource network of over 20 groups and websites and am affiliated with many more. I dwell in the social media space. I don't know how many times I see posts from our members getting scammed or not getting paid form bad shippers, brokers and individuals. I have to wonder how they can take loads that they could not vet first. With TAFS it is an easy process and only taking minutes to use your member portal to check and get approval. Why risk your money.
They like to say they are much more than factoring and they are. As a partner, they offer dispatching, load board, tire discounts, one of the best FUEL CARDs available, truck financing, insurance, truck leasing, sales, ELDs, are open 365 Days a year and can give you your money in ONE HOUR! No other factoring companies comes close to the full service you will get with TAFS.
Most of all, I want to add this in. I host and attend different seminars put on by Austin ABLR, a great businessman and National dispatcher friend. TAFS always attend and speak at these events. I have met many of them. They are good people from Kansas City, USA, not from some overseas corporation. That matters to me. You can talk, reach out and they listen.
Sure I see the comments that some do not like their system for call backs on customer service but if you follow the suggested procedure, it works. Just like any company dealing with many clients, they have to work thoroughly and that sometimes takes longer but is more effective. If you have an urgent need or matter, message me, as the admin of Hotshot-USA Resource Network, I stand behind my partners and those that I refer my members to, I am in your corner.
Yes, I am biased, but I am loyal to those who I believe in. I built Hotshot-USA from my belief that we needed a voice and community to work together to benefit us all. I don't know of another company that I can say this for when it comes to factoring.